Luxury Villa Rental in Sotogrande
To Enquire about Luxury 5 Bedroom Sotogrande Villa CLICK HERE !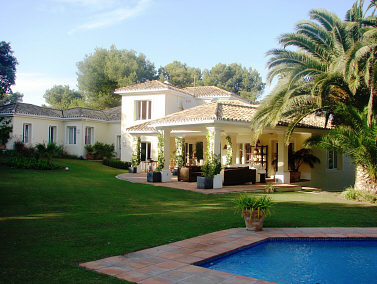 This beautiful private villa is located in the main residential areas of Sotogrande. Close to the Marina, beaches and Polo fields. It is very tastefully furnished with large private gardens and a swimming pool.
The outside terraces contain a dining and barbecue area, and have sofas in a separate lounge area overlooking the gardens and pool.
Entrance to the villa is through large traditional wooden Spanish doors, into the outside entrance area complete with olive tree and Andalucian water feature. There is a large reception area when you enter the house, and you will immediately appreciate the spacious nature of this property.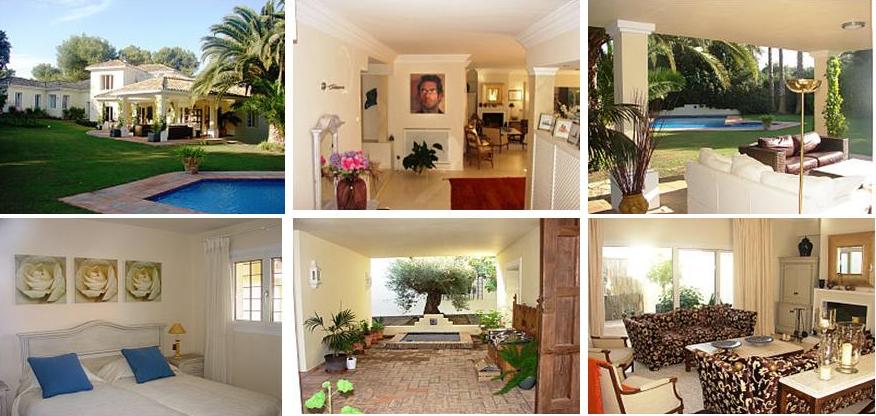 All of the floors are covered in a high quality marble, and as you enter the main lounge you will see a comfortable seating area in front of a large fireplace and overlooking another water feature in a small courtyard. There is a separate TV lounge, as well as another private area with sofa and chairs.
The dining area overlooks the gardens and terrace and is adjacent to a large state-of-the-art fully equipped exquisite modern kitchen. This kitchen contains every conceivable utility and is complete with breakfast bar and flat screen TV.
The bedrooms consist of three twin bedrooms, and two double bedrooms. All of the bedrooms have ensuite bathroom facilities.
There is also a large double garage and a separate utility and laundry house.
Education