Costa De Sol Restaurants
There are a very wide choice of restaurants in Duquesa, I have listed the ones I know. I won't rate them as every one has different tastes and views, however I will recommend two as I think they are a bit special.
My two recommendations are.....
SAN RAFAELS
I like it for its Castillan cusine, great service, great red wine and reasonable prices.N340 (opp. the entrance to Hacienda Guadalupe). Complimentary starters and interesting traditional cuisine including suckling pig and game.
TIKITANO BEACH RESTAURANT
Telephone: 952 608 531
This is an amazing restaurant with breathtaking sea views and tremendous cusine. It ain't cheap but you'll never forget it.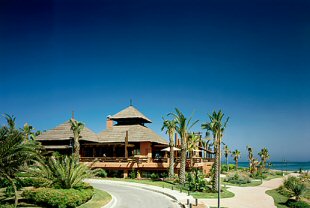 Tikitano Beach Restaurant
As for the rest the choice is yours, all in the Duquesa marina.
ALFONSO
Urb. Pueblo Mexicano (by the westbound slip road to Duquesa. Traditional Spanish Fare. 952 890 208, 615 317 900
BROWNS
First level (at top of first set of steps). English breakfasts, Carvery. 952 890 597.
CHENG DU
Harbourside. Chinese restaurant
EL MIRADOR
Plaza de la Fuente, (first level). French brasserie.
GEMOJO
First level (just off the access road by Banco Andalucia). International menu. 952 892 398
IL CAPITANO
Plaza de la Fuente, (first level). Italian cuisine.
JOLLY SAILOR
Frontline first level. International menu. Sunday lunches.
LA TRAVIATA
Second level (above the Plaza de la Fuente). International cuisine and grill menu. 952 891 372
LA VECCIA MILANO
Plaza de la Fuente (first level). Italian cuisine. 952 897 187
MACUES
First level. High class Spanish cuisine including whole sea bass cooked in a salt crust. 952 890 395
MANDARIN PALACE
The harbourside. Chinese restaurant. Takeaway menu available.
MARILLIA
Plaza de la Fuente (first level). Pizza restaurant.
THE MEXICAN
Harbourside. As the name suggest Mexican and Tex-Mex cuisine. Recently enlarged. 952 893 673
PARAPIROS
Second level (above Plaza de la Fuente). Italian cuisine and pizzas. 952 890 744
PASSAGE TO INDIA
Harbourside. Indian restaurant. Takeaway menu also available.
SLOW BOAT
Harbourside. Chinese restaurant. Takeaway menu also available. 952 890 537
STRAW DONKEY ROADHOUSE
Top Level by the entrance from the Castillo access road. American style diner food run by a wacky Canadian. Tel: 952 936 344
TAJ MAHAL
First level (at top of first staircase). Indian food including takeaway menu. 952 890 651