Costa Del Sol Shopping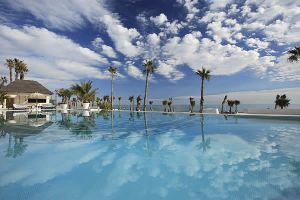 Shop in Style at Laguna Village
When on vacation is Spain you must indulge in Costa Del Sol shopping, shopping in Marbella and Puerto Banus is a varied and exciting experience.
From trendy upmarket shopping in Marbella and Puerto Banus to scouring the portside makets in Estepone, a great shopping experience awaits.
Local Markets
A popular custom, the local flea market or mercadillo is a highly enjoyable way of acquiring affordable local goods. Markets vary in size and type of goods sold, but fruit and vegetables, local arts and crafts, shoes and clothing are the mainstay items. Open approximately 10.00 to 15.00.
Weekly markets in main resorts:Monday: Marbella, Las Albarizas
Tuesday: Fuengirola Fería Ground (see below), Nerja
Wednesday: Estepona Avda. Juan Carlos I (see below), Calypso Mijas Costa
Thursday: Torremolinos Zona Calvario
Friday: Benalmádena Arroyo de la Miel, Calypso Mijas Costa
Saturday: Puerto Banús Bullring, La Cala Mijas Costa, Las Cañadas Mijas Costa
Sunday: Fuengirola Port (see below), Estepona (see below), Malaga

Fuengirola market Back to the top
Tuesday is market day (el mercadillo) in Fuengirola. The biggest outdoor market on the coast it attracts visitors from nearby resorts as well as the locals. It is well worth going down to browse at the wide range of wares for sale, from fake designer clothes and watches to more traditional Andalusian produce.
Estepona markets Back to the top
Sunday market: in the marina gifts, leather goods, watches, costume jewellery, arts and crafts, presents, novelties, CDs and tapes are sold in the tourist market.
Wednesday market: the town market day. El rastro, held in the open ground on Avenida Juan Carlos, is good for fresh fruit and vegetables, clothes and housewares.
Daily morning covered market: Mercado de Abastos, held near the castle and the Plaza del Reloj and selling fresh fish, meat, fruit and vegetables.
Local Crafts Back to the top What to buy and where to find it
Ceramic and pottery - Coin, Mijas, Pueblos Blancos (white villages) route Leather goods - Ubrique Esparto grass products - North Malaga Embroidery and handicrafts - Velez Malaga, Mijas Wrought iron artefacts - Ronda Handmade blankets - Grazelema

Costa Del Sol shopping, shopping Marbella and Puerto Banus
When doing your Costa Del Sol shopping, shopping in Marbella and Puerto Banus is all about upmarket and fashion shopping.
Clothes and Fashion Shopping Back to the top
The height of fashion and sophistication is Puerto Banus.Apart from drinking a coffee whilst gazing at the passing sports cars, the most popular pastime in Puerto Banús is shopping - Gianni Versace, Ralph Lauren and Donna Karan to name but a few, have stores here.
Many boutiques also stock designers, most notably: Mic Mac sells Armani, Cerruti and Kenzo Royal House stocks Valentino, Christian Dior and Pierre Cardin Exseption sells Prada, Gucci, Dolce & Gabanna
If your budget doesn't stretch to haute couture there are plenty of other shops:
Children's clothes: Neck & Neck and Jacardi Department store: El Corte Ingles Shopping centre: the new Marina Banus shopping centre is home to high street fashion names such as Zara and Mango.