Gibraltar
The Rock, The Apes and The Dolphins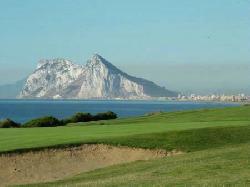 However you arrive into Gibraltar, by air, foot, car or sea, you will very soon experience its intricate layers of history all around you.
An immediate talking point is the runway, built during the Second World War and the shortest in the world. As it crosses the main road into the city you will be amazed to see aircraft crossing the main road.
The Rock
Visit the upper rock nature reserve. A tour can be taken in a number of ways, by official taxi or tour company, by private car or by foot. Alternatively, you can take the cable car from Grand Parade.
A basic tour lasts around two hours and takes in thousands of years of Rock evolution, including the famous Barbary Ape Den, habitat to Europe's only free roaming primates, St Michael's Cave with its stunning stalagmites and stalactites and once home to Neanderthal and Neolithic man.

The Upper and Middle galleries form part of the honeycombed inside of the limestone Rock, and illustrate the defence of Gibraltar during the Great Siege of 1789, when the forerunners to the Royal Engineers scraped out tunnel systems to position guns to fight off the enemy. Other highlights include a stop at Europa Point, the southernmost tip of Europe with its breathtaking views across the Strait to North Africa.
Gibraltar Dolphins
Visitor's who discover the families of dolphins leaping in the sparkling waters of Gibraltar Bay, never forget them and the chances of seeing them are good.gibraltar shoppingA dolphin-watching trip is the most enjoyable way of seeing these fascinating mammals up close and there are several boat trips to choose from.

In addition to no fewer than three species of dolphin, whales also migrate here, including the largest mammal of them all, the Blue Whale. The favourable Mediterranean climate makes for sightings of a variety of rare species of birds, dolphins, whales, fish and turtles.
Nightlife
Casemates Square at the end of Main Street was once the centre of public executions. Today it is the thriving hub of Gibraltar's nightlife, filled with numerous lively bars and cafes that stay open into the early hours. There is a wide selection of places to eat to suit all palates.
Shopping
Main Street is recognised today as Gibraltar's main commercial and shopping district. After a morning of skirting around its intricate lanes and streets you may now be tempted to stop and look at some of the VAT free bargains to be had.

Gibraltar offers exceptional value added shopping. Popular purchases include, cosmetics, perfumery, tobacco, spirits, electronic goods and jewellry. It's the perfect pre-Christmas weekend shoppers' destination with everything in close proximity.